Since you guys requested him so much, Matthew will appear as a boss character in Petit 3 Stage 4!
Quotes:
I'd like to pay tribute to the Skyward series, so I made Matthew a boss. - Rich3001k
Matthew was the right person for the boss-over role - Goomylord
It shoulda been Desert Wolf! IT SHOULDA BEEN DESERT WOLF!!! - Dealwithitdewott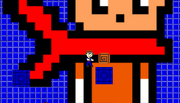 Ad blocker interference detected!
Wikia is a free-to-use site that makes money from advertising. We have a modified experience for viewers using ad blockers

Wikia is not accessible if you've made further modifications. Remove the custom ad blocker rule(s) and the page will load as expected.